Scope of services
(1) Household Financing
VIP card. Cardholders can enjoy Star Alliance benefits, retail offers and discounts, as well as privileged treatments at VIP lounges in over 10 airports.
Time and demand deposits in local and foreign currencies. A breakthrough in the traditional method of savings, BOCOM Banking ushers in an advanced model of account management, by which a multitude of financial services are offered, including RMB demand deposits, time deposits, fixed-term savings for interest withdrawal and principal maintenance, fixed-term savings deposited at intervals and withdrawn in a lump-sum, flexible conversion between demand and term deposits and multi-currency deposits featuring USD, Japanese yen, HKD, Australian Dollar, British Pound and the Euro. Through this financial facility, customers are spared the hassles of having to maintain a large collection of deposit slips and passbooks.
Agent payment service: Using a VIP card, you can conduct a range of activities including bank-securities transfer, bank-insurance transfer and auto-payment of public utility fees. Furthermore, you can access information updates on your various savings accounts and Pacific Card account through the BOCOM branch network, telephone banking, Internet banking and self-service terminals.
Investment service. You can enjoy a variety of investment services, related to securities, bonds, mutual funds and trust. As investment risks cannot be averted, your assets may be subject to appreciation or depreciation. For investments in trust funds, please study the relevant documents carefully for a better grasp of the essential information and details.
(2) Personal Investment
Fx Structured Deposit
No-hassle fund protection with time-saving benefits – Currently introduced BOCOM products ensure safety of customers' investment capital, with full payment of the principal and expected returns at the end of the maturity period. Concurrently, customers only need to entrust the bank with their funds, without having to worry about the nitty-gritty aspects of the investment themselves, thus it saves them effort and time.
Customer-oriented service with attractive investment returns —Through the global financial markets, the best and most experienced investment experts from BOCOM give their all to ensure Fx Structured Deposit a level of investment returns that are much higher than those yielded by ordinary time deposits, with a performance unrivalled by similar products from other banks.
Simple procedures with thoughtful service every step of the way—Such a service offering is available at most BOCOM network, where special counters are on hand to serve the customers promptly and efficiently. Financial consultants are also on the standby to provide customers with a professional service catering to their special needs.
Synergistic collaboration among banking giants to usher in a state-of-the-art system —BOCOM works with leading international banks to provide this service, where a state-of-the-art system, combined with BOCOM's powerful distribution channels, are leveraged to provide customers with a wealth of products that are directly integrated with international foreign currency markets.
Risk reminder: These transactions are exposed to market, fluctuation and liquidity risks. Once a transaction is initiated, customers are will not be allowed to make premature fund withdrawals.
RMB Structured Deposit
Flexible maturity terms --- a versatile range of investment products with 3-month and 1-year maturity periods is available
Abundant yields with a much higher level of expected investment returns compared with time deposits of the same period spanning across upward interest-rate cycles to ensure value maintenance and appreciation.
Low threshold— investment product is sold for a minimum RMB 50,000, with an integral multiple increase of RMB 10,000, to bring you an easy investment experience
Low risk level—the investments are spread across products such as central bank treasury bills, short-term government bonds, and short-term policy-related financial bonds issued by banks. These safe investment products provide a sufficient protection for your capital
Professional investment team that is part of a century-old and reputable banking legacy
(Risk reminder: Liquidity risks and risks of interest-rate increase. Investments can be hypothecated but cannot be cashed out in advance.)
Personal Financing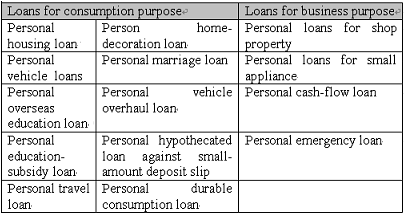 "Foreign Exchange Kit" "Foreign Exchange Kit" personal forex trading protects you against foreign-exchange risks through arbitrage and ensures maintenance and appreciation of your foreign-exchange asset value.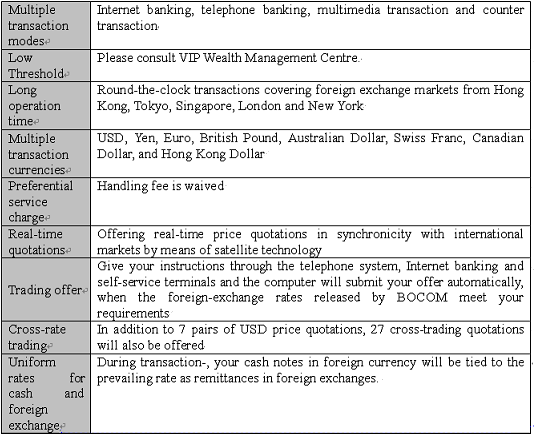 "Financial Report"—Customizing your life-long financial plan
Integrating your personal resources and a host of social resources including financial market news and information, "BOCOM Wealth Management" will provide you with a range of services, including financial planning, portfolio management, investment consultancy, cash flow management and risk management, to facilitate appreciation of your assets on a continual basis.
(3) Personal services
VIP Wealth Management Centre and its counters are always ready to serve your needs. We have established BOCOM wealth management centres and counters throughout China for the exclusive use of our VIP customers
24-hour telephone banking: 95559
Internet banking: Visit www.95559.com.cn and register for an Internet banking account to enjoy even more quality services.
Self-service banking: Self-service amenities including ATMs, CDMs and CRS, together with numerous multimedia inquiry machines are yours to enjoy.
(4) Excellent services
Administrative charges for a number of services are greatly reduced. As a VIP customer, you can enjoy multiple concessionary rates. For details, please refer to the appendix.
"Green Channel" has been established to save you plenty of time. Conduct your banking transactions at VIP Personal Banking Centre and enjoy our one-stop services that let you skip the long queues.
Nationwide VIP treatment. Check your account balance, withdraw cash or conduct cashless transactions at the ATMs and Branch network within the BOCOM network located across Hong Kong or Macau.
(5) Abundant information
Information consultancy: BOCOM Wealth Management will provide you with financial information consultancy services, including financing consultation, investment consultation, tax consultation, legal consultation and help customers like you execute your personal banking, along with services pertaining to financial regulations and others permitted within official policy framework. Besides, we fill you in with macro-level economic and market news, as well as timely updates on interest rates, currency-exchange rates, insurance, securities, real-estate, vehicles and financial regulations completely free of charge.
Members' Club: BOCOM Banking provides you with regular invitations to members' activities, including seminars on financial products and various wealth-management talks.
Lifestyle and financial information: We will also send you regular issues of BOCOM Wealth Management magazines, for you to explore ways to enhance your lifestyle, along with vital financial and quality lifestyle information.
Product and service pamphlets: Pay a personal visit to any BOCOM branch to collect these publications or click on to the website www.95559.com.cn for detailed information.
Appendix: Measures to Protect the Confidentiality of Your Password
When using our VIP card or any electronic terminal, take every precaution to avoid letting others see the numerical configuration of your password.
Memorize your password rather than writing it down on paper
Keep your VIP card, telephone banking password and VIP card password separately.
Never use your identity card number, telephone number, date of birth, driving license number and commonly used numerical combination as your passwords (e.g. 888888, 123456)
Change the VIP card and telephone banking passwords regularly.
Never key in your personal particulars on your bank card on the Internet and keep your online consumption records.
Be extra careful to double-check letters, emails, SMS and telephone calls of dubious origins, as disclosure of your card number and password to any third-party that may cause financial losses.